FTTH GYTY53 Fiber Optic Outdoor Cable Stranded double jackets Armored cable
Fiber Optic Outdoor Cable

1
2-144cores GYTY53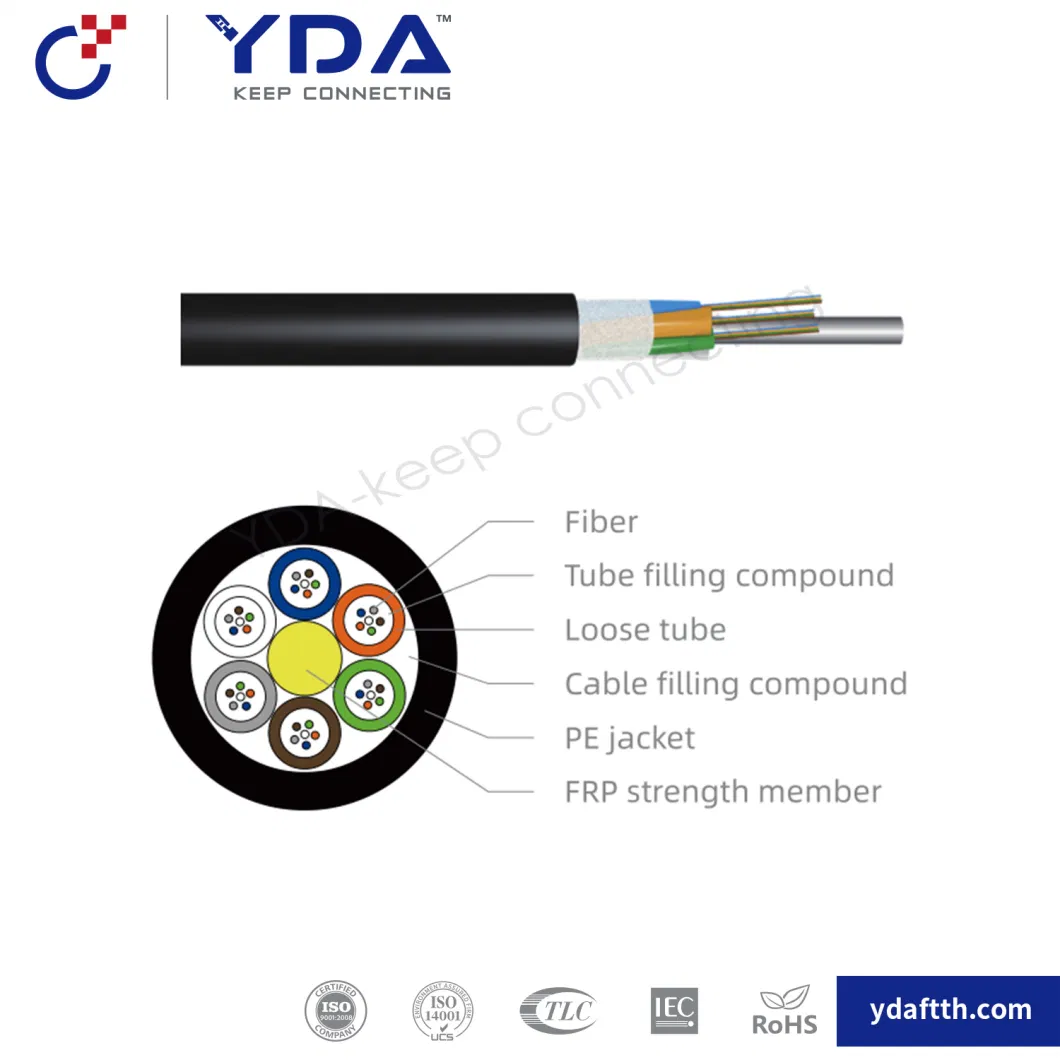 Description:
Stranded Armored Cable is positioned in a loose tube made of a high modulus plastic. The tubes are filled with a water-resistant filling compound. A steel wire, sometimes sheathed with polyethylene (PE) for cable with high fiber count, locates in the center of core as a metallic strength member. Tubes (and fillers) are stranded around the strength member into a compact and circular cable core. The PSP is longitudinally applied over the cable core, which is filled with the filling compound to protect it from water ingress. The cable is completed with a PE sheath.
Features
:
High strength loose tube that is hydrolysis resistant
Special tube filling compound ensure a critical protection of fiber
PE sheath protects cable from ultraviolet radiation
Good crush ability,applies for duct and directly buried application
Special tube filling compound ensure a critical protection of fiber
Double APL layers prevent the moisture
Applications
:
Long-distance communication
It's suitable for duct, especially for the places with high requirement for moisture-proof
Installation: Duct, direct-buried or non-self-supporting aeria
Specification:
Fiber count
Weight
(g/M)
QTY of tube
Tension
(N)
Min.bending radius
(mm)
Long term
short term
Dynamic
Static
2-60
160
6
1000
3000
15D
30D
62-72
200
6
1000
3000
15D
30D
74-96
240
8
1000
3000
15D
30D
98-120
280
10
1000
3000
15D
30D
122-144
300
12
1000
3000
15D
30D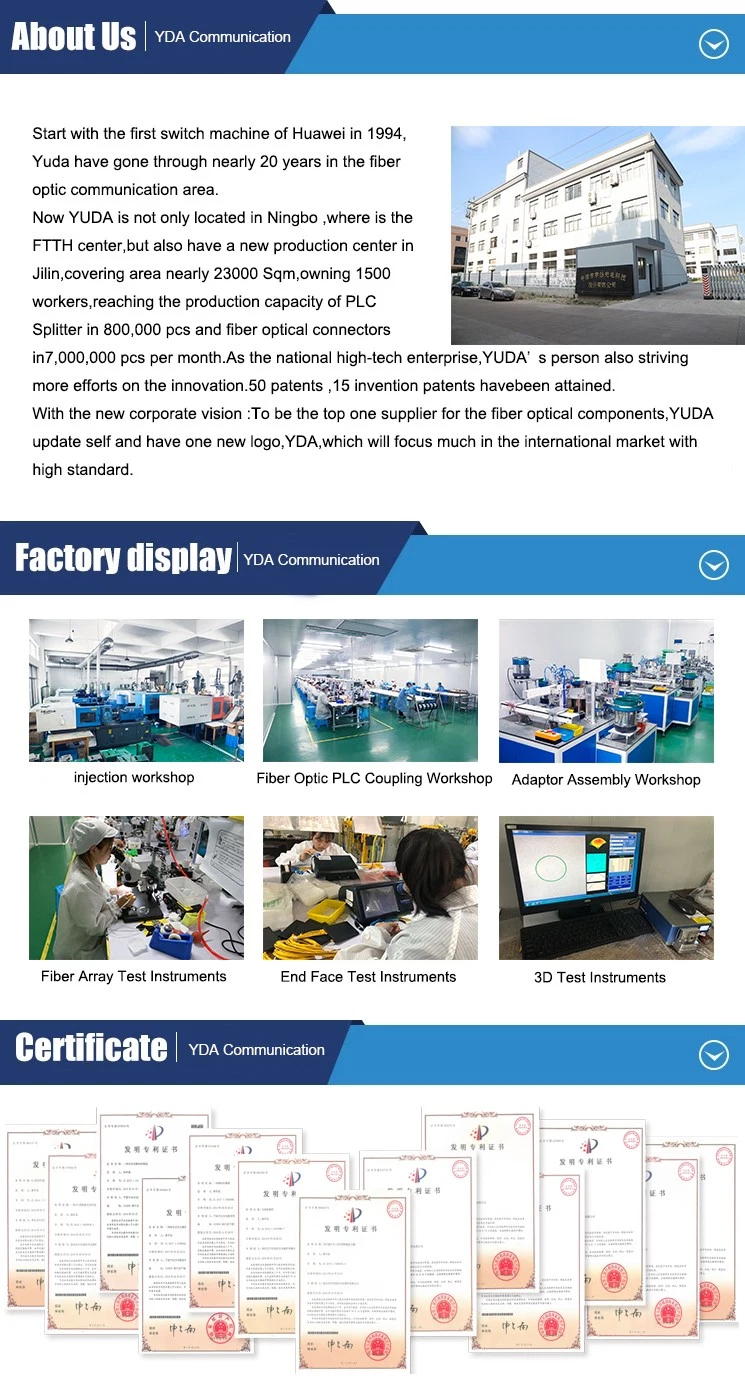 1.Q: The History of our factory?
A: In 2000, Yuda entered the communications industry and began to make adapters. It accumulated funds to invest in jumper production in 2006, and increased the optical splitter workshop in 2009. Yuda won the national high-tech industry in 2013, and sold over 15 million US dollars in 2015, and began to explore foreign markets.
2.Q: The location of our factory?
A: Our factory is located in Ningbo, Zhejiang, and our new factory has also been put into production, located in the Northeast (Jilin Province).
3.Q: Occupied area for our factory ?
A: The construction area of our factory is about 23,000 square meters, including 8000 square meters in Fenghua Plant and 15,000 square meters in Northeast China.
4.Q: What is the quality for your product?
A: All of our product are with high quality, we promise 100% recall policy if they are unqualified, we can write it into our contract!
5.Q:What's your best price for your passive fiber optic product?
A: Based on the quality of our products and the quantity of your estimated. We would quote the great best matching price all the time.
6.Q:How do you arrange the shipping?
A:
Solution a: YDA take care of everything. Clients only need to collect cargo in local or wait cargo delivery to their office. There are two types of shipping methods available, by sea and by air (Express courier - FedEx/ DHL/UPS/TNT/EMS, we can ship them according to your express account or ship them by our agent company, the delivery time is about four days).
Solution b: Clients assign a Shenzhen logistic company to do the shipping, YDA follow the company's instructions and finish the shipping.
7.Q:How can you guarantee the delivery time?
A:To avoid the delay, we have built a complete and professional procedure system from production to the deliver and have rich experience. We can regulate the penalty clause in the contract for the late delay.
8.Q:What is your quality control for your fiber optic product ?
1. Source Guarantee. We have our own long-term cooperation raw material suppliers. All the products are ROHS certificated and satisfy exporting quality level demand.
2. Quality Test. It runs through the whole process from the raw material to finished product, such as package, surface, physical test, optical test. They are 100% tested.
3. Optical Test. Our products are strictly tested in accordance with IEC and ITU standard.
4. We have 30% spot test by Quality Assurance Department after the products finished.
Please always feel free to contact us for any questions, it's our honor to be on service of youFeatures!